Only it was the Heart of Texas Fair, not the State Fair. K, one of the girls in the Woman in Black, which I'm stage managing, was given some tickets at work, and she invited me and M, another girl from the play to go with her. She'd never been before, and really wanted to check it out, and since the fairgrounds are right next door to the theatre, we didn't even have to pay for parking.
When we got down to the end of the fairway, we came across the freak show booth; K had also never been to a freak show before, so we went in. For the most part it was a collection of live, stuffed and preserved animals of the conjoined twins gone more wrong than usual variety. One of the stuffed animals, however, was purported to be a chupacabra.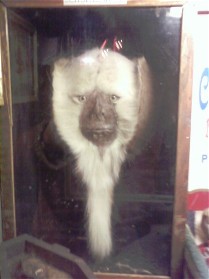 After looking at it for a couple of minutes M said, "That's just wrong. That's a deer butt, upside-down."
I was telling one of my coworkers about it, and he dubbed it the "chupacabr-ass"
On our way out, we saw one of those "Old Timey Photo" booths. Yet another thing K had never done (not that I had, either, incidentally… but then I'm not really one for voluntarily getting my picture taken). I agreed to join them in the photo under the stipulation that I was not going to wear anything frilly. They did have something in the Annie Oakley style, so I was happy.